I began this written piece with "Cavellini Sends Me a Poster," but now think I shall step back a smidge and discover how and why Cavellini and I first corresponded.
In about 1977 I was working in my studio when there came an awful pounding on my door. There was a yelling as well…"Open up, C.T. Chew!! Open up!!" Certainly it was someone looking for me. I opened the door and beheld for the first time E.F. Higgins III from New York City . Ed wasted no time dancing around my studio yelling and laughing that he had found me! "You make stamps! Good ones!" or something like that, he sang out.
Ed was an artist stamp maker, too, and was in Seattle to accept a prize at the Davidson Galleries' Foot Print Exhibition, a show where artworks could be no bigger than 12" x 12". Ed had sent several sheets of his stamps in and had been awarded some money. I had won a prize as well for my sheet of stamps I called the Probosidea Issue: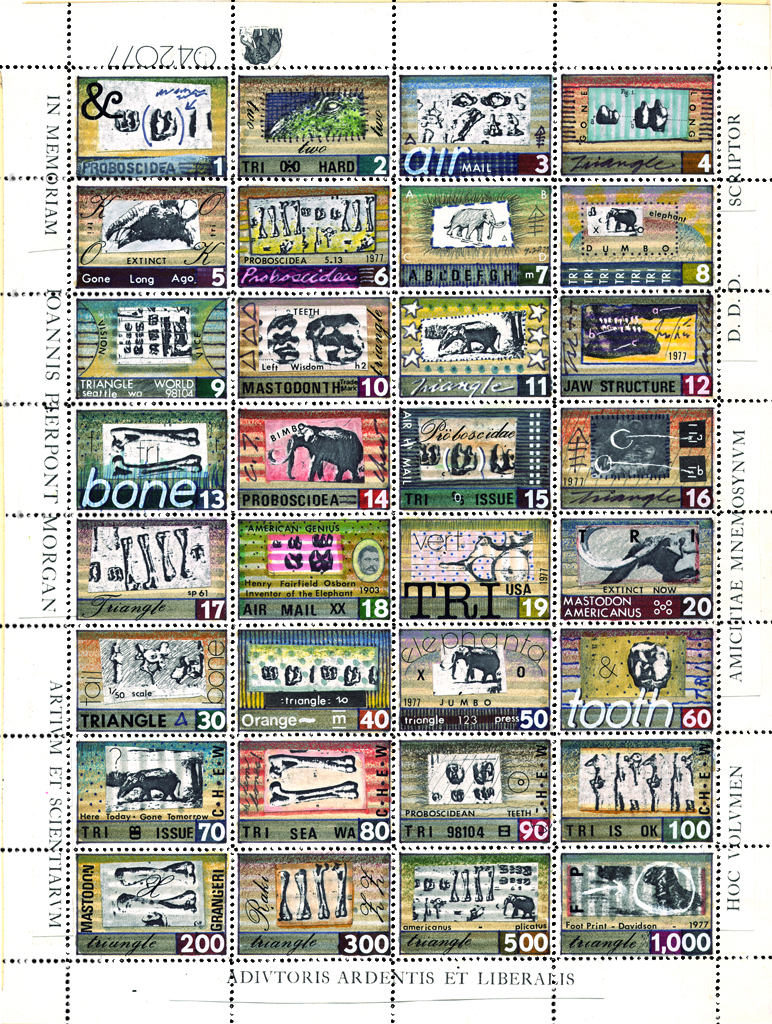 Ed and I became instant friends and thus began a correspondence and collaboration which has continued for 35 years. Compared to Ed I was an ignoramus when it concerned Mail Art, Ray Johnson, Cavellini, Crackerjack Kid, H.R. Fricker, etc. I had never heard of any of them. Ed was nice enough to clue me in, give me addresses, and encourage me to begin mailing my stamp sheets and envelopes out to artists around the world.
Each artist I corresponded with had their own way of reciprocating. I was surprised and thrilled when I received back an envelope I had sent to Cavellini with his own stamps and rubber stamps all over it. This I found out was a trademark of his, called the 'round trip.' Here is what one of those round trips looked like: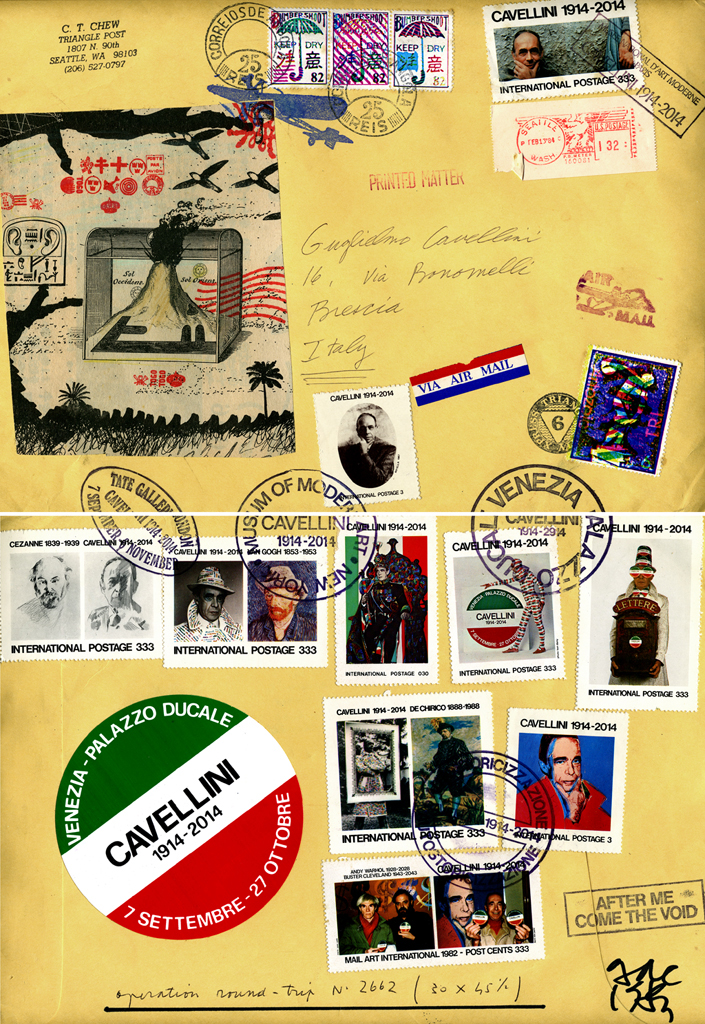 Cavellini Sends Me a Poster
In 1985 the great Cavellini sent me a poster! The poster, which is about 31 inches high by 23 inches wide, arrived folded in a large envelope. The picture on the poster is of a giant International Postage 333 stamp in which a smiling Cavellini stands holding a mailbox, his tie, eyes, and hat covered with his famous Cavellini 1914-2014 stickers. Surrounding him are more of his actual artistamps affixed to the paper and cancelled. Finally the piece is dedicated to me, "dedicato a C.T. Chew," and has the inscription (as close as I can make out), "soi autorizzato a festeggiare il mio centenario nel 2014," which I believe translates loosely to "authorized to celebrate my centennial in 2014." I have delighted in this poster almost everyday since receiving it 26 years ago.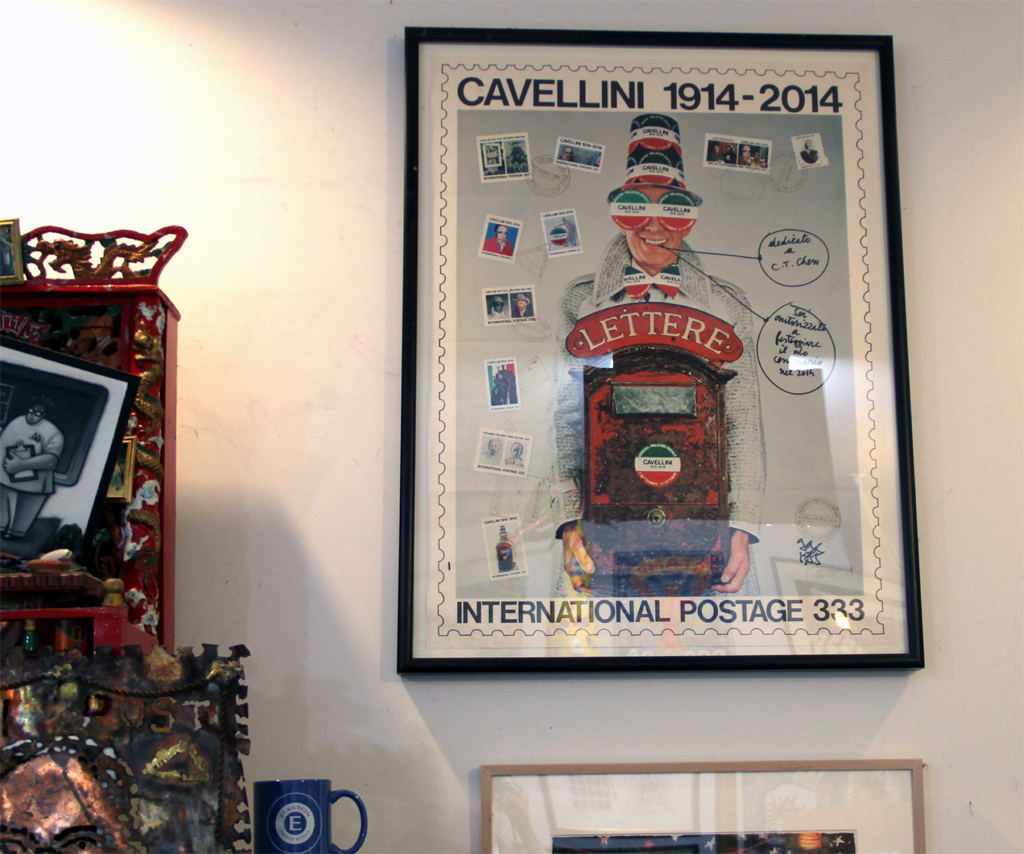 In June of 2010 I decided to resign from teaching in the public schools. It was a very difficult decision and left me on and off depressed for 6 months. In November I decided a way to encourage my sunny side might be to begin sending my work out again, unannounced, to people, for free—ah, Mail Art! So, I began packaging up one or more pieces from the archeologically significant stacks in my studio and mailing them out. I had some dilemmas with this, though. The pieces felt too precious—people considered them, or at least probably figured I considered them, artworks. I worried people might be uncomfortable because they didn't want or like, or couldn't frame, or had nowhere to display or store the art I sent—could there be perceived expectations attached to these unexpected gifts? My experience of getting the poster from Cavellini suggested a solution to this perplexity—I could send out a poster as well, and if it were an offset print, on paper, folded, and mailed, it might not have to be considered so precious. If someone didn't like or want the poster they could just recycle it or maybe use it for wrapping paper.
One of the beauties of offset printing is getting a lot of something rather inexpensively. If I printed posters, I was committing myself (should I have done this years ago?) to storing even more stacks of work, unless I vowed to mail out or give away all of the posters. And there, motioning to me in the wings was the Eternal Network of Mailists, Fluxists, and Dadaists, who I had ignored for 11 years while teaching elementary and middle school here in Seattle . What fun it would be to reconnect with those colleagues by designing a poster dedicated to them.
I know like me, you have always been enchanted by the diagram of cuts of a beef divided up, not into meat, but Dada/Fluxist/Mailist artists. I have no idea who came up with this, but many different versions have been around for a long, long time.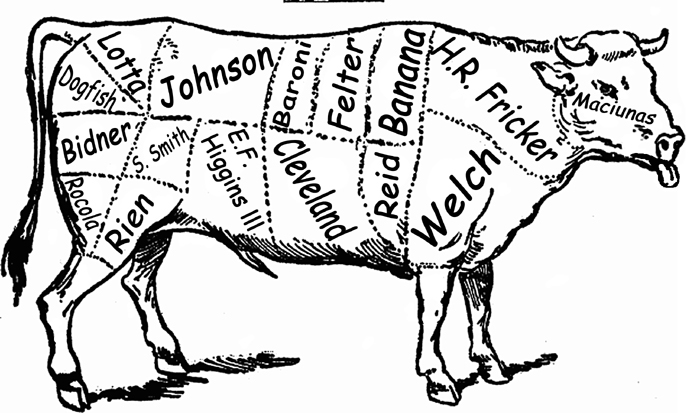 buZ blurr, the 'Colossus of Roads,' and possibly the most famous contemporary hobo, was one of several artists who continued to correspond with me even though I didn't always respond back. His work generally took the form of black and white linocut stamps honoring different artists. One of his self portrait stamps was suggestive of a 'beef' diagram: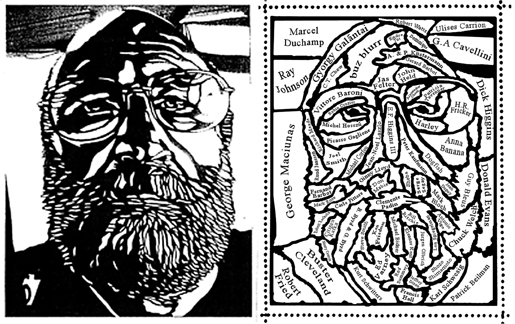 I put the names of dearly departed artists around the outside, though made the mistake of including Patrick Beilman who is very much alive. With only a few exceptions, the names were all the artists who I had exchanged things with in the mail going back to 1976. To finish the design I put some of my own stamps around the border, somewhat in the fashion of the Cavellini.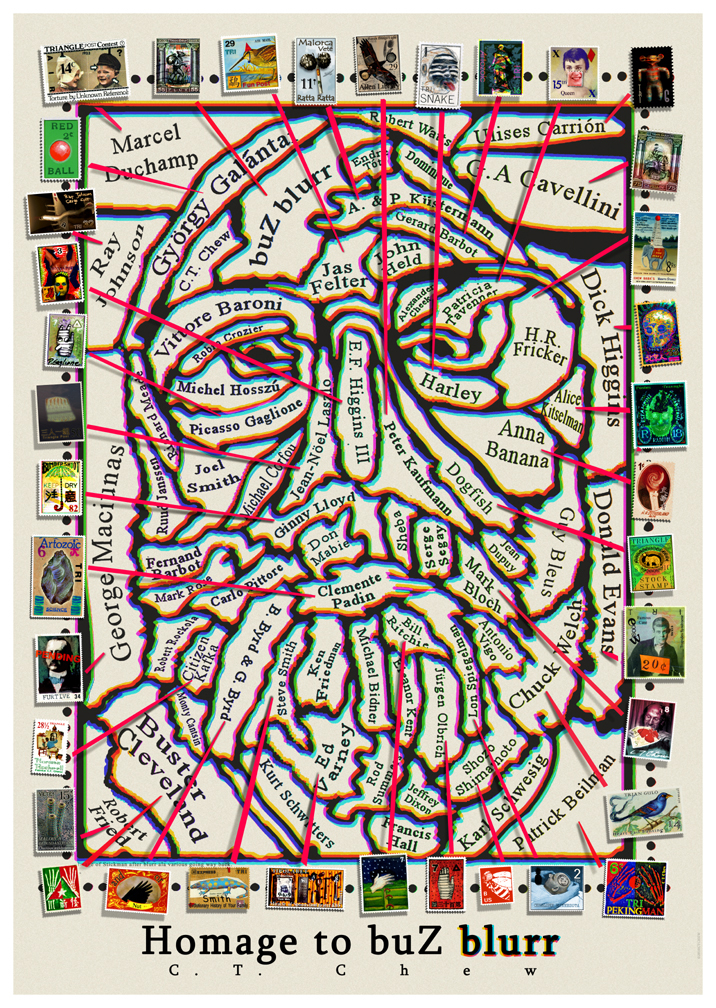 My first goal was to try to send one to each artist mentioned on the poster. This was a challenging task as many had moved or dropped out of the Network themselves. I began using friends as well as Google to locate them and find email addresses. Of course, as I searched I began to find lots of additional Mailist Netlanders I had never known. I became a member of IOUMA, the International Union of Mail Artists, started by Ruud Janssen. I found artists on Facebook. I was introduced to Lutz Wohlrab who was a wealth of address information.
Soon folding and mailing posters became the focus of my days. The first recipients unfortunately got a wad of poster crammed into a 9x12 envelope. It took me a few days to find larger envelopes which allowed for fewer folds and a thinner package. I worked on the envelopes as well and each became something wonderful to receive: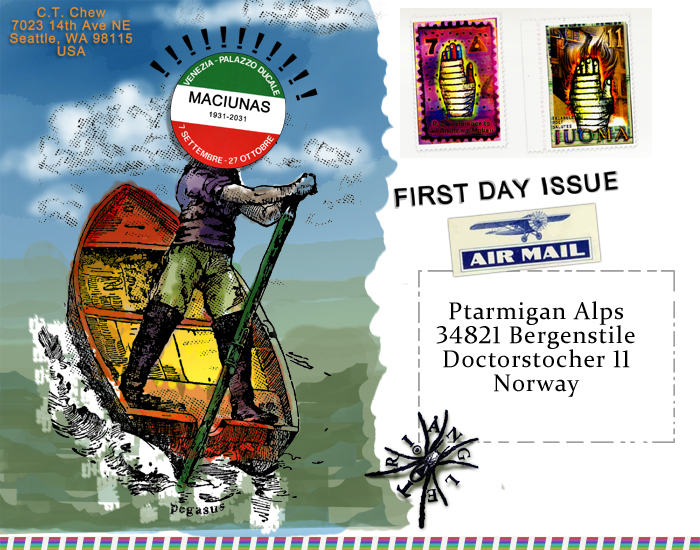 Following that first poster have come three more. They are "Cavellini's Perforations," "An Evolutionary Baobab of Artistamp Correspondents," and "Almost Gone."