And, of course, there was school. Being a teacher was always a bigger job than I ever thought it could be. One way I was able to cope was to invent collaborative art projects which fit in with the curriculum. Many times the students did not know until a culminating event that I had had a hand in what turned out to be merely an illusion.

One of my most fun deceptions was the Single Celled Organism Challenge. This was set up by telling students that every year the Songbird Sponge Co. in Mothhips, Indiana, had a contest for middle school biology students. The objective was to design a single celled organism and show on the drawing how the creature ate, expelled waste, respired, protected itself, and reproduced, etc. Winning entries would be featured on that year's poster for the sponge company.

Students threw themselves into this challenge and I always had a hard time choosing three or four drawings from each class to put on the posters.

Of course I got to make the poster and only after presenting each student with their prize did I tell them that the contest was all made up.

You might think this would be hard for them. 6th graders in particular and most 7th graders are still able to suspend their disbelief if they are having a good time, and the winners were always thrilled to receive their posters!

My own single celled organism is to the left. Please select it to enlarge, and also see some of the students' drawings.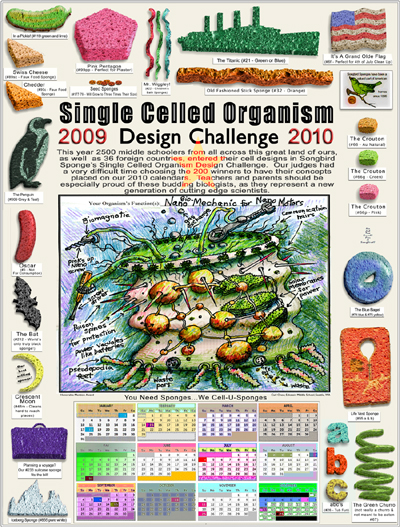 Single Celled Organism Design Challenge
Print: Giclée on Paper, Limited Edition of 50,
21"H x 16"W, 2009
Enlarge/Details